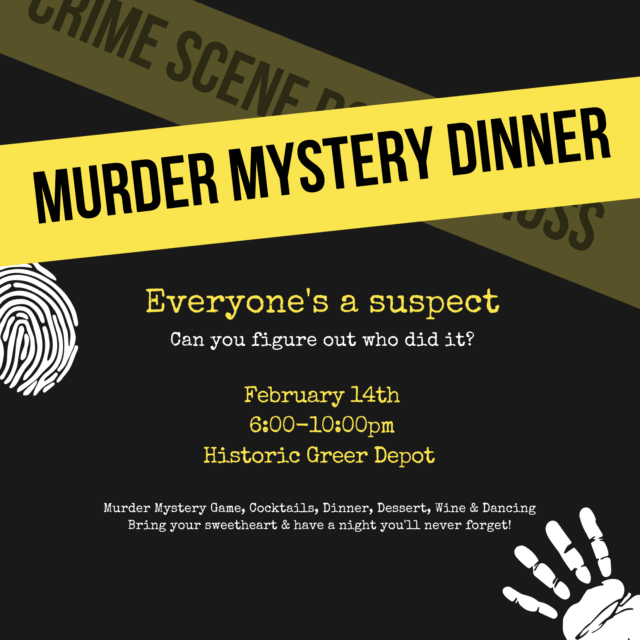 Get your tickets for a Valentines Day Murder Mystery Dinner Theatre on February 14th from 6:00-10:00pm! The night will begin with cocktails (Old Fashioned and The Bees Knees) from Summit Bartending as you make your way to your table to begin a wonderful dinner buffet from Holmes Catering. You will start with a mixed Greens Salad garnished with mandarin oranges, crazins and vinaigrette dressing. The main courses are peppercorn crusted beef tenderlion served room temperature with horseradish creme on the side and chicken in a sundried tomoato, parmesan cream sauce. The sides will be a wonderful sauteed haricots verts with grape tomoates and garlic-parmesan mashed potatoes served with yeast rolls. There will also be a lovely Cheescake Station with creamy New York style cheesecake served with strawberry, blueberry an chocolate sauces to your liking. Drinks available from Holmes will be Tea & Water. Your culinary experience will be elevated with an expertly paired tasting of 4 decadent wines from around the world.
Next up on the agenda for the night is our Murder Mystery Game! Someone has been found dead and it will be your tables job to figure out "who did it!" Each table will have characters that you will be assigned. It will be an amazing night of investigation to find the suspect!
After you arrest the culprit, enjoy an hour of dancing to end the night in the arms of your sweetheart!
Click here to go to our Eventbrite link for tickets!